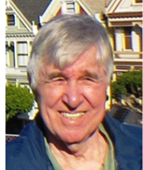 I'd like to thank the church membership for electing me as your new Moderator. I just hope I can do as good of a job as Eona did in these past two years. I was Moderator in 2011, but things were a lot different then and a lot has transpired since.
For those who don't know me, I was born in Los Angeles, California, in 1936. I joined the Air Force as an enlisted man as soon as I turned 18 and stayed in for 30 years attaining the rank of Chief Master Sergeant (E9). In the Air Force, I worked with computers. When I retired in Montgomery, Alabama in 1984, I worked for a computer company as a manager for 11 years. I moved to Sun City in May of 1999.
My first recollection of a church was attending a church revival about 1947. In the years since I've been a member of the Presbyterian Church, non-denominationals at military bases, a Baptist Church in Texas where I was baptized. I joined a 7,000 member Methodist Church in Montgomery, Alabama in 1979, where I remained a member until May 1999 (20 years). During that time, I managed the Wednesday night kitchen servers (40) in order to serve about 1000 to 2000 people each Wednesday night.
I joined the Church of the Palms in March of 2005 and almost immediately Maria and I started helping Doris Gott in the kitchen at the Tuesday breakfast when Doc Mathews left. I'm an avid bird watcher and have traveled to 46 countries mostly bird watching or taking a cruise with my wife. I love the Church of the Palms.
George Wall