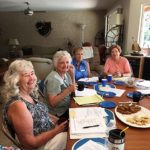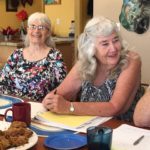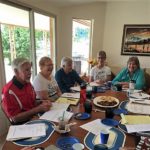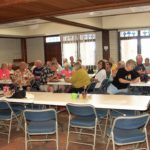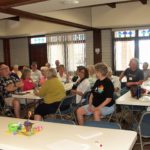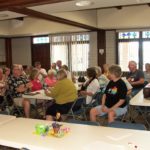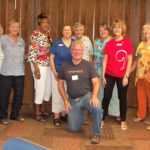 Photos contributed by Linda Rouches and Jan Hutchins
CHURCH OF THE PALMS
SOCIAL JUSTICE TEAM:
MOVING FORWARD
Working for JUSTICE through Prayer, Action, Love, Ministry & Support
The Church of the Palms Social Justice Team (CoPSJT) is moving forward by addressing two immediate issues of concern and three important issues to be addressed in the future.
The CoPSJT, consisting of 19 members, is zeroing in on LGBTQ Equality and Immigration/Refugee Assistance. Future issues to be addressed include: Religious / Racial Discrimination, Protecting the Environment, and Criminal Justice Reform.
The team has embraced the "Open and Affirming Congregation" statement adopted in 2015 which reads as follows:
"The Church of the Palms, United Church of Christ, welcomes all people into the full life and ministry of our church, regardless of age, race, or gender; personal, mental or physical ability; gender identity or expression; sexual orientation; ethnic, cultural or religious background; marital, social, or economic status; or life history.  We believe that God loves all people and offers us gifts in our diversity.  We affirm families and relationships built on love, respect, responsibility, and trust. You are welcome here!"
In addition, the team has developed and will recommend to the Church Council an "Immigrant / Refugee Welcoming Congregation" statement which reads as follows:
"We are followers of Jesus, who welcomed everyone and excluded no one. As members and friends of Church of the Palms, we are called to take action whenever lives are made vulnerable and whenever injustice occurs.  We are moved to stand together with our immigrant/refugee brothers & sisters and their families. Therefore, we declare ourselves an Immigrant/Refugee Welcoming Congregation."
Specific action steps will be developed for each of the statements listed above in order to move the church and community forward in these issues. Watch for these action steps to be posted on the web page and included in the Palm Leaf.
Calendar of upcoming events:
ICE BREAKER
Thursday, August 17, 2017, 11 AM
2035 N. Central Avenue, Phoenix, AZ 85004
Social Justice Team Meeting
Saturday September 9, 2017, 9:30 AM
Schulz's
These links may also be of interest to you:
The Church of the Palms Open and Affirming Statement ,
UCC.org advocate for justice page
The Church of the Palms Social Justice Team Report